REGISTRATION FOR THE APRIL 11TH DIVINE SERVICES:
There is still space available to attend the Divine Services this Sunday, April 11th. To register to attend in person, please use the following link: https://forms.gle/QPrNN4wQc7QTh8dq5.
Live- stream will be available at https://stgeorge.org/livestream/.
Orthros 8:15AM, Divine Liturgy 9:30AMREGISTRATION FOR THE GREAT LENT AND HOLY WEEK SERVICES:
Use the following link to register for the Divine Services: http://www.stgeorge.org/pascha2021/.

PARISH LANTERN FUNDRAISER:
The Parish Council is selling reusable lanterns to transport the Fos home from the Anastasi and/or Agape service. For those of you uncomfortable attending church, the Fos will be available in the sanctuary parking lot following the Anastsi service. Kali Anastasi! Lanterns can be ordered online and picked up starting April 11, 2021
https://stgeorge.ccbchurch.com/goto/forms/482/responses/new

ORATORICAL FESTIVAL:
St. George is proud to host the Maryland District Level of the St. John Chrysostom Oratorical Festival, this Saturday @10:30am. Join us as we welcome our guest participants from 5 other parishes in the Maryland region, as well as our own contestants! We look forward to celebrating the perspectives and talents of our youth! For questions, please email oratoricalfestival@stgeorge.org.


YAL:
Please join our YAL at Saint George for a Lenten Talk discussing, Arriving at the Resurrection, led by Father Stefanos Alexopoulos on April 10th at 1 PM in the Chapel. If you plan to attend in person, please register using our link https://tinyurl.com/StGeorgeLent. If you would like to view the livestream of our event, it will be accessible at https://youtu.be/3q_2xUeDSNc.


Please support our Saint George YAL by purchasing Luminaries for our Good Friday Memorial Luminary Fundraiser. Luminaries will be displayed at church on Good Friday. All proceeds will go towards the Saint George Feed the Hungry Program and Orthodox Christian Mission Center (OCMC). Deadline to purchase luminaries are on Palm Sunday, April 25th.The link to purchase is https://tinyurl.com/StGeorgeYAL.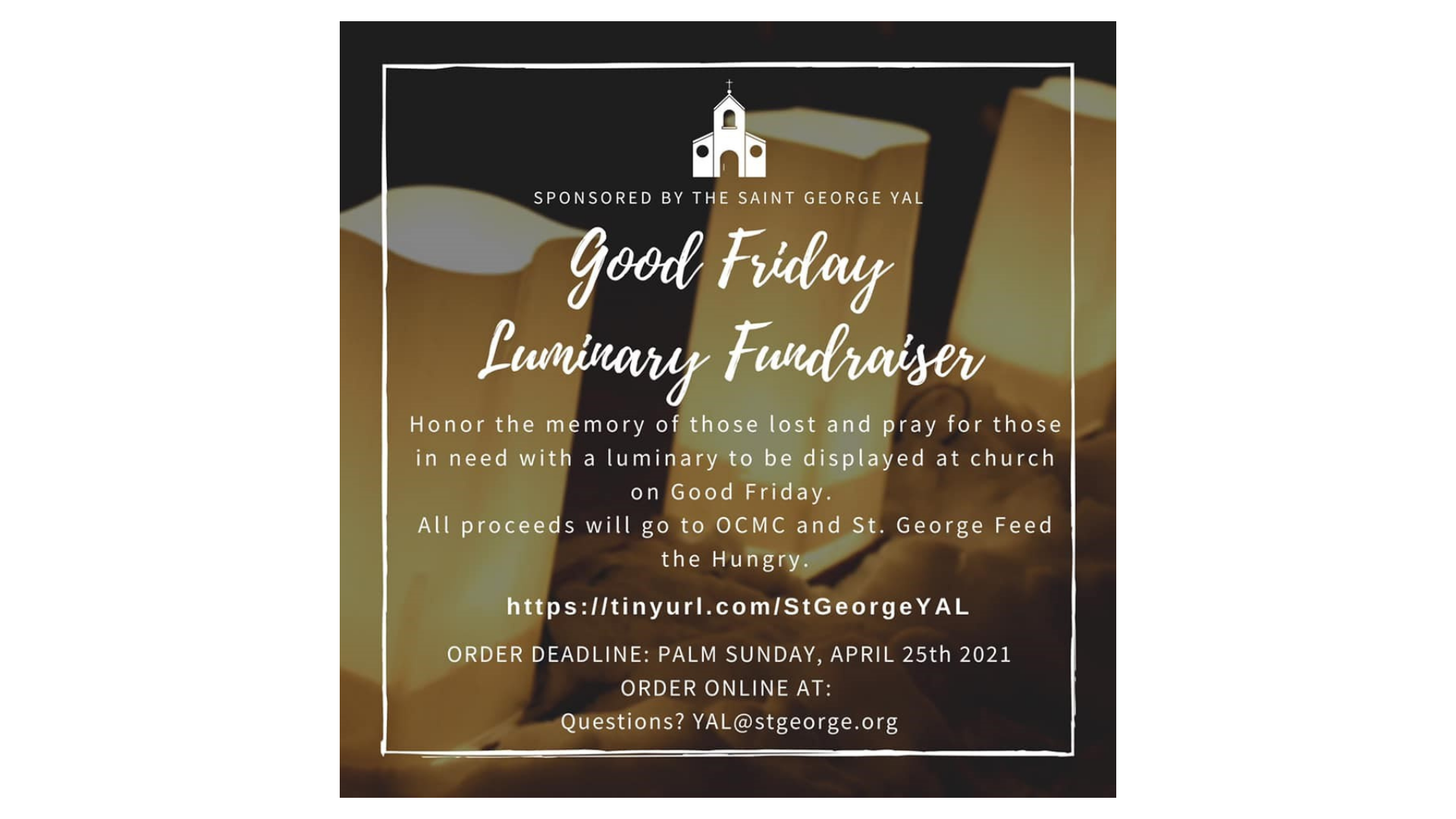 SUNDAY SCHOOL: Our St. George Sunday School is inviting all our youth to participate at the 15th Annual Youth Lenten Retreat with the theme of Jesus Christ our Lord and Savior "Truly He is The Son Of God" Matthew 27:54, on Saturday, April 17, 2021 from  1:00pm to 3:20pm. This is a unique opportunity for our children to learn through crafts and activities about how to bring the Paschal Light of Christ into their lives throughout the year.
There will be four stations offered for children in grades K-6th:
Station 1: The Lord's Prayer
Station 2: Repentance/St. Loginos
Station 3: Confession/St. Mary of Egypt
Station 4: Bearing our Cross
Register students K-6th grade: https://stgeorge.ccbchurch.com/goto/forms/489/responses/new
CIT (Counselors In Training) Registration 7th – 12th graders (Can earn 4 SSL hours)
https://stgeorge.ccbchurch.com/goto/forms/490/responses/new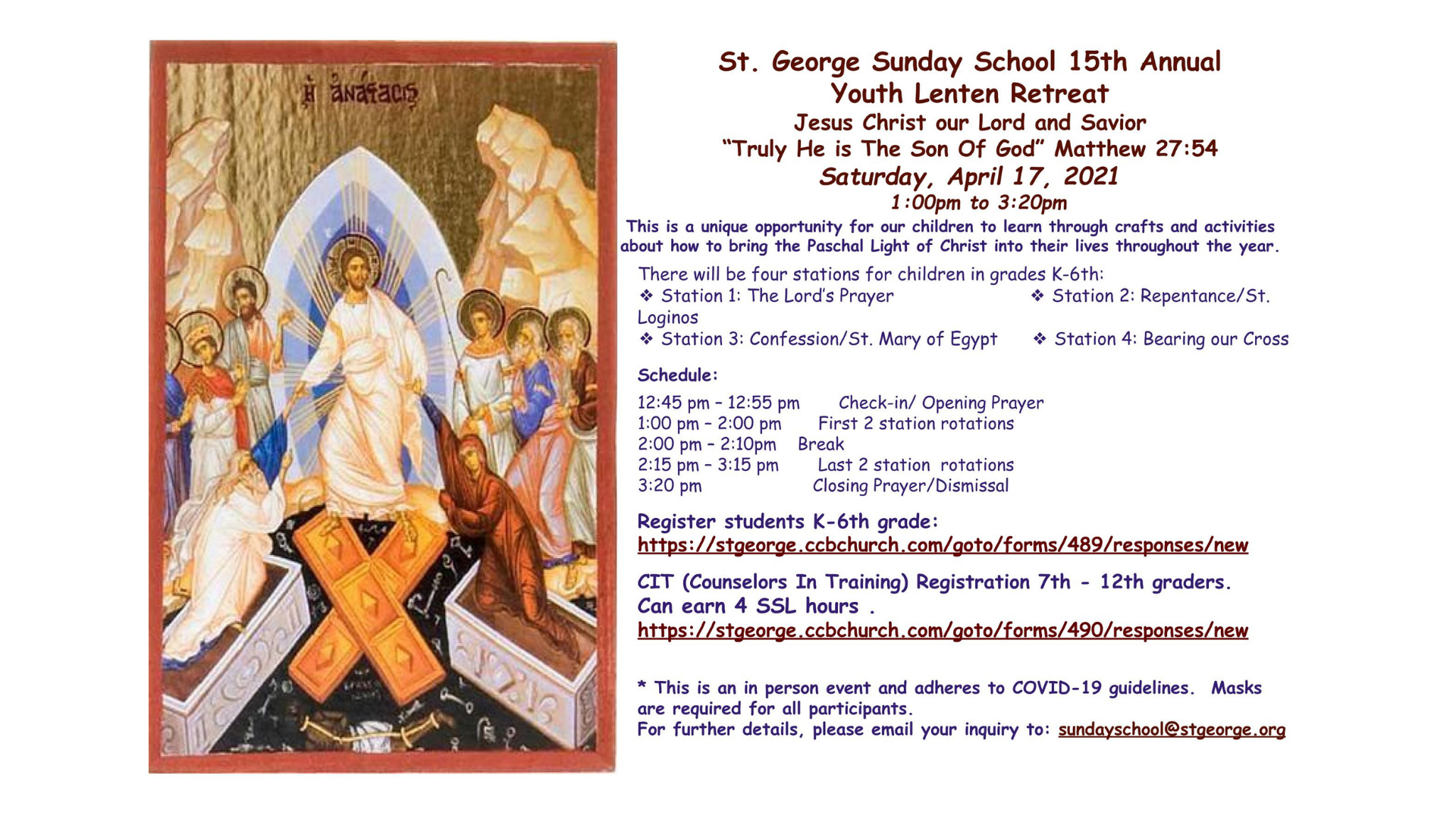 GOYA:
Join your fellow GOYAns during the journey through Lent. GOYAns will participate in vespers, service projects, games, Lenten meal and fellowship.
Registration link: https://stgeorge.ccbchurch.com/goto/forms/492/responses/new

PHILOPTOCHOS:
Pascha Bake Sale- Tsourekia, Koulourakia, Kourabiedes, Melomakarona, and Red Egg Dye. The deadline to pre-order is on Sun. April 18 and the pickup date is Sun. April 25. The order form is attached.
ST. GEORGE GREEK PRESCHOOL:


Registration for the 2021-22 school year is open!
The St. George Greek Preschool operates Mon-Fri (8:30 am-5:30 pm) and offers half or full day classes for 2, 3 or 5 days a week.
Children 2 to 5 years of age are immersed in the Greek language while learning about our culture and faith. Children must be 2 yrs old by September 1, 2021 to enroll in the preschool.
Please note that we are also offering an optional English class aimed to prepare students for Kindergarten. Parents of children that will be attending American Kindergarten in September of 2022, have the option to enroll their children in Epikinonia OR the English Prep class in the afternoon.
Open House: Private tours are available with appointment. Please contact our Director, Marilena Michalas at directorstgeorgegreekpreschool@gmail.com to schedule a visit.
Use the following link to register for the 2021-22 school year: https://stgeorge.ccbchurch.com/goto/forms/479/responses/new
Please visit our website for more information at ST. GEORGE GREEK PRESCHOOL – Home
---
Attachments:
STG EVENTS.pdf
2021 Bake sale (1) (2).pdf