REGISTRATION FOR THE MARCH 14TH DIVINE SERVICES:
There is still space available to attend the Divine Services this Sunday, March 14th. To register to attend in person, please use the following link: https://forms.gle/fLEWFcRqvzQGfQYF6.
Live- stream will be available at https://stgeorge.org/livestream/.
Orthros 8:15AM, Divine Liturgy 9:30AM

THE ST. GEORGE MOBILE APP IS AVAILABLE FOR DOWNLOAD:

Download the Free App:
Search your App Store: Saint George GOC
Text "STGEORGE APP" to 77977
Use the link: https://pushpay.com/get?handle=greekorthodoxstgeorge&source=external
ORATORICAL FESTIVAL:
We invite you to join us as we celebrate our youth! The St. John Chrysostom Oratorical Festival, Parish Level, is taking place THS SUNDAY @4:00pm. Everyone is welcome to watch the livestream here: rebrand.ly/dd603 We look forward to celebrating together!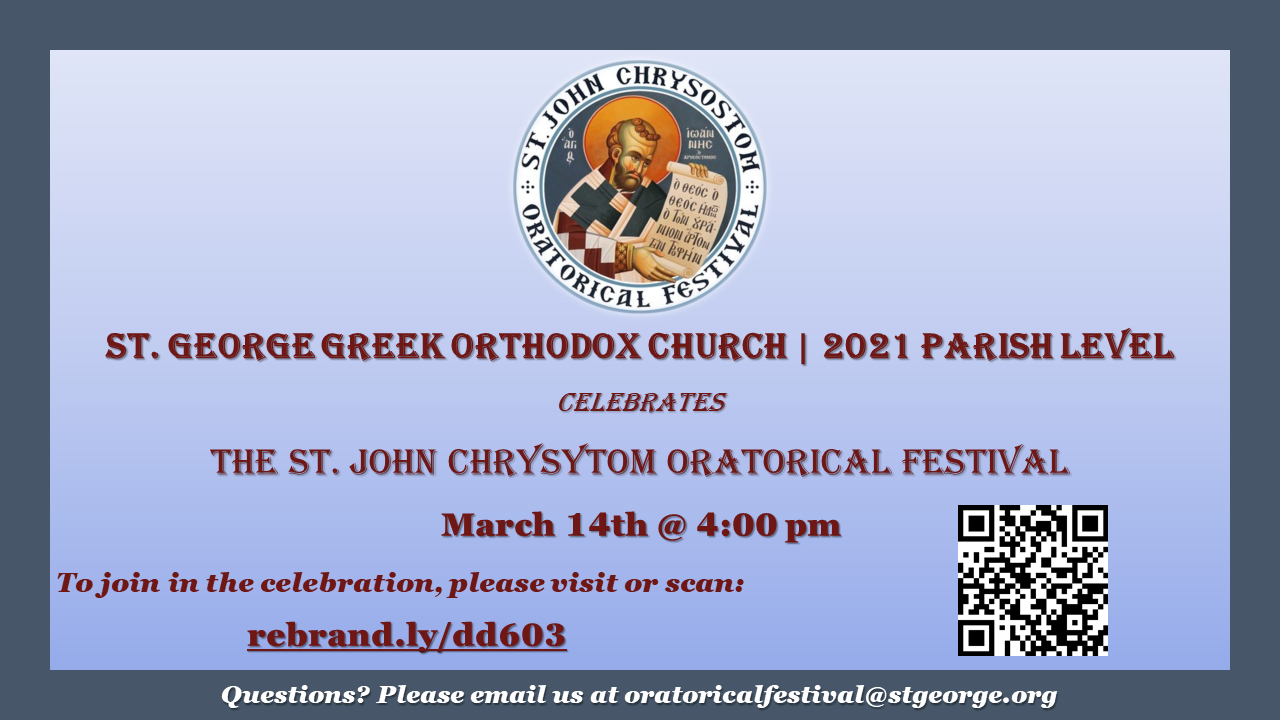 ST. GEORGE GREEK PRESCHOOL:
Registration for the 2021-22 school year is open!
The St. George Greek Preschool operates Mon-Fri (8:30 am-5:30 pm) and offers half or full day classes for 2, 3 or 5 days a week.
Children 2 to 5 years of age are immersed in the Greek language while learning about our culture and faith. Children must be 2 yrs old by September 1, 2021 to enroll in the preschool.
Please note that we are also offering an optional English class aimed to prepare students for Kindergarten. Parents of children that will be attending American Kindergarten in September of 2022, have the option to enroll their children in Epikinonia OR the English Prep class in the afternoon.