ST. GEORGE BULLETIN FOR DEC. 13. 2020
Please find attached a copy of Sunday's Bulletin (Dec. 13) for your prayerful preparation.  Let us keep each other in prayer that the Divine Physician may protect us from the present pandemic, may give healing solace to those who are sick, and eternal rest to those who have gone home to the Heavenly Kingdom.   Lord Jesus Christ, Son of God, have mercy on us and on the whole world!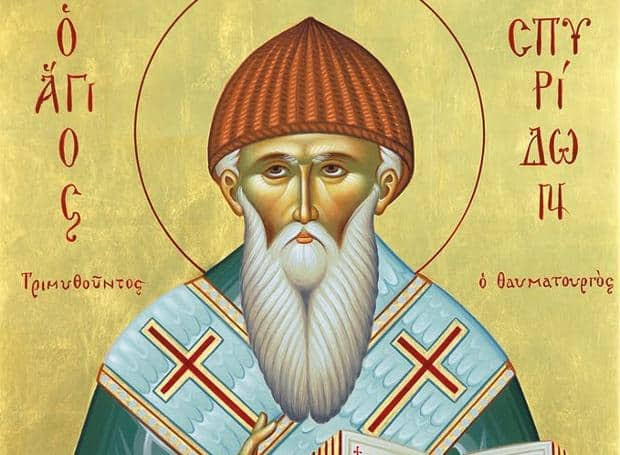 Tomorrow is the feast day of our Holy Father St. Spyridon, Wonderworker and Bishop of Trimythus.During his life, he was known for his strong defense of the Christian faith. He was a bishop of the early church and was a participant at the Council of Nicaea. He was born in a village called Ashia on the island of Cyprus. He was a shepherd and he eventually married and had a child. His wife died and this left him and his daughter alone. Upon her death, they both entered into a monastic life together. Over time, he became a priest and eventually a bishop.
While at the Council of Nicaea, it is said that he met and formed a friendship with Saint Nicholas. He also defended the faith against Arianism and defended the Holy Trinity. He explained the trinity by holding up a brick and when he did so, the brick was said to have burst into flames.
Apolytikion
You were revealed as a champion of the First Council / and a wonderworker, our God-bearing father Spyridon. / You spoke to one dead in the grave / and transformed a serpent into gold. / While chanting your holy prayers / you had angels serving with you! / Glory to Him Who gave you strength! / Glory to Him Who granted you a crown! / Glory to Him Who through you grants healing to all!
---
Attachments:
December 13, 2020 11 Luke Herman of Alaska.pdf